Cucumber, Radish, and Feta Salad with Parsley and Lemon
play backgammon on a porch together because it's ok to be ok, ok?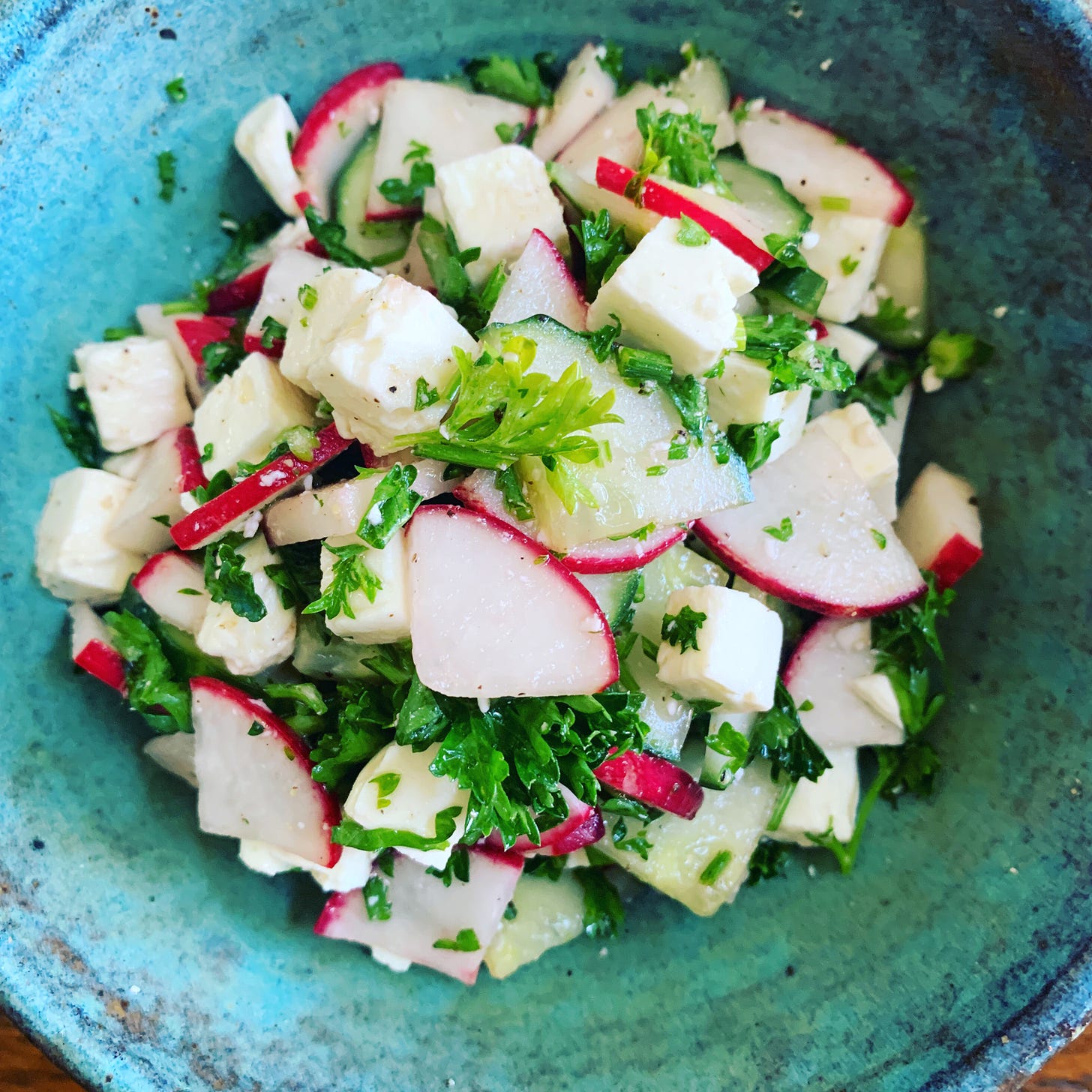 Chapter 55
Is it just you, or does it feel like everyone is secretly seeing people again? We know we are not supposed to be within 6-feet of people and we are all supposed to wear masks around each other and it is safer to be outside while observing all of these conditions and washing our hands. Even the most responsible and cautious people that you know are starting to break the rules in order to see each other. It's all happening quietly though. Almost like it is a secret.
These are not the same people who flooded the beaches over Memorial Day and then blamed the rise in numbers on the protestors or the first people in line to crowd into restaurants and eat brunch, elbow to elbow, with unmasked strangers because of Liberty or something.
These are the people who have lost business in order to stay safe and keep others safe. These are people who have already decided to homeschool their kids next year rather than risk it. These are people who keep extra masks in their cars, purses, wallets, or pockets just in case. People like you.
It has been 16 weeks since you locked down. You have been pretty conservative in observing all of the recommended precautions. You still keep hand sanitizer and disinfectant wipes in your car even though the current theory is that surface contact isn't as dangerous as breathing around other people. But 15 days ago, you hugged someone, like in real life hugged someone for the first time in over 100 days (the last time you hugged someone it was still snowing sometimes) and when you pressed your chest into hers you could feel her breathing and you cried a little with relief.
We are starting to take risks, to calculate the cost of our isolation against the risks of infection. You've decided that it's ok, that human beings were not made to exist without each other. It is the strangers you still don't trust, never really trusted anyway. It is the large gatherings. It's not the friend who has been working from a home that is 15-minutes away from the closest gas station. You are tired of missing your mother or father or sister or brother who have all been enduring the same level of caution and social isolation for almost four months. You've waited and waited and waited for someone else to say it's ok.
This is why you are making a salad to bring to your friend's house: because it's ok that you want to sit at a distance on a porch and play backgammon with a friend that you love and miss dearly. The last game you played together was the day before you shuttered your business and locked yourself away. You used to play every Sunday and you've sacrificed over 125 games in order to keep everyone safe. You've decided that it has to be ok in order for you to be ok, ok?
Ok. Mix a cup each of sliced cucumbers and radishes with half a cup each of chopped parsley and cubed feta. Toss with olive oil, salt, pepper and the juice from AT LEAST half of a lemon. Eat in the sunshine, masked, safe, but close enough that you could share a secret.