Farfalle with roasted tomatoes, wilted arugula, feta, and leftover chicken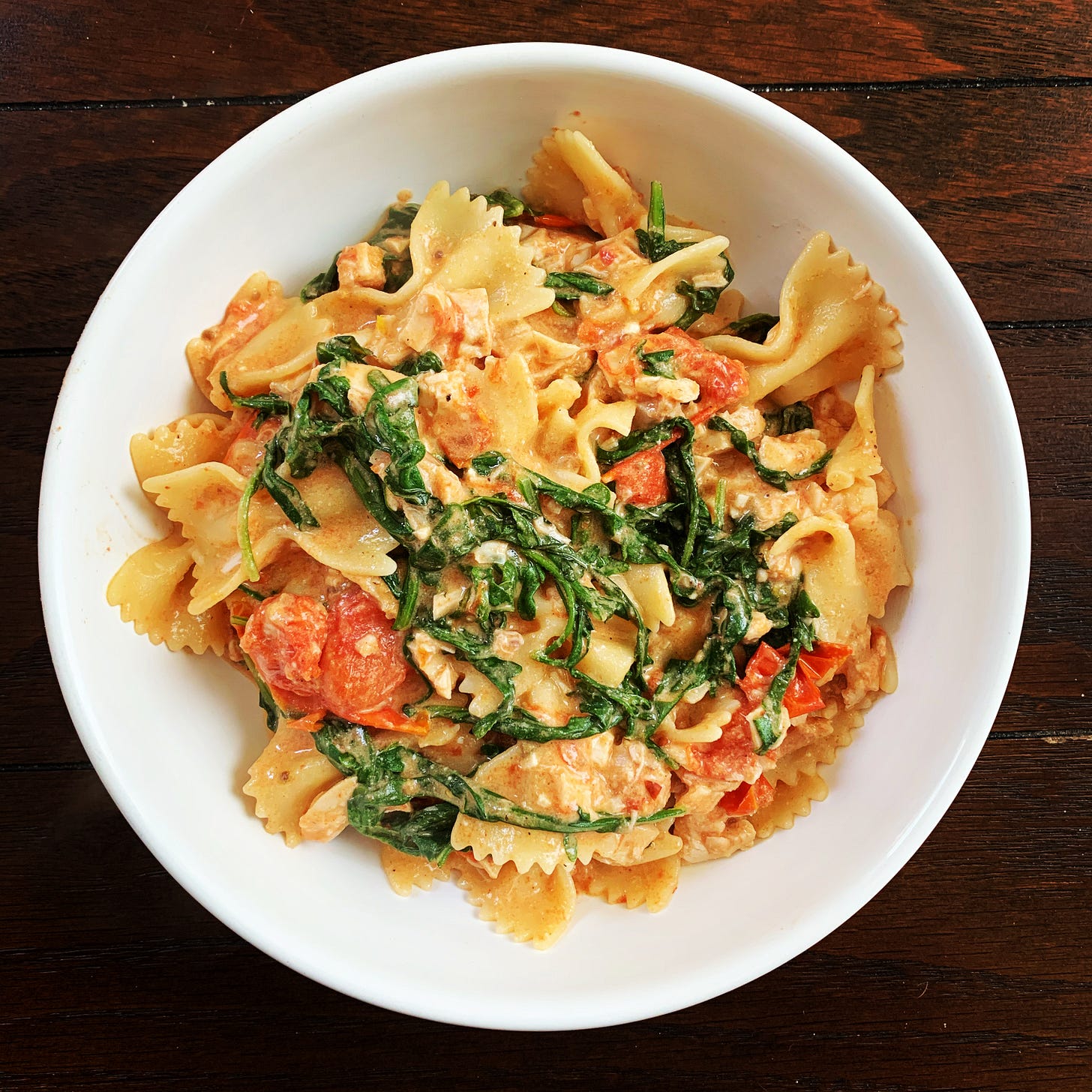 "It's the easiest thing in the world!" -Me, every time I make things for my family.
This one is though, I promise. It's just the things listed in the title. Proportions here are for like 2+ servings, but I'm bad at making small batches of anything.
Preheat the oven to 375/400. In a glass pan, toss about 2 cups of cherry/grape tomatoes with olive oil, salt, pepper, and red pepper flake. Pop that in the oven and then get some seasoned pasta water boiling.
Chop up as much chicken as you like or have (about half a rotisserie or 2 breasts). Set aside. (Vegetarian? Leave it out. You don't really need it.)
Chop up about 8oz of Feta cheese. (Why spend extra money on pre-crumbled feta when you can crumble it yourself? Like, goat cheese I get. It's really hard to crumble and I've never done it well, but feta?)
Water is probably boiling, so dump half a box of farfalle or whatever you have. I just like the little bowties. Fusilli might be nice. Cavatappi is almost always correct.
While that's cooking, there really isn't much else to do. Visit the Shedd Aquarium's Facebook page and watch the penguins tour the museum. Fall down a rabbit hole of videos about how wildlife is experiencing amazing amounts of freedom without all the people around. End up crying. Again.
When your pasta is done, reserve about a cup of pasta water and drain the rest.
By this time, your tomatoes should be well roasted. You're looking for cracked skins, maybe a little blistering. If you are ready and they are not, pop them in the broiler.
Grab your empty pasta pot and put it back on the burner, like medium-high. Add feta and tomatoes and stir it up. Enjoy popping some of the tomatoes (it's very satisfying and releases the juices). This makes kind of a chunky cream-ish sauce. Don't work too hard at it. Add the chicken, then add the arugula and about ½ cup of the reserved pasta water and stir until the arugula wilts. If you like the consistency, stop. If you want more liquid, add a little more pasta water. Add the pasta and mix.
Give it a taste. Notice how you don't need to add much salt? That's the magic of feta and properly salting your pasta water.
Easy, right? Told ya.


chapter #25