Discover more from Eat Well Enough
Recipes with fresh seasonal feelings, simmered in life, and served to you weekly. Folding metaphors into food since 2020.
Lemon Ricotta Cake
treating yourself and making the choice to choose yourself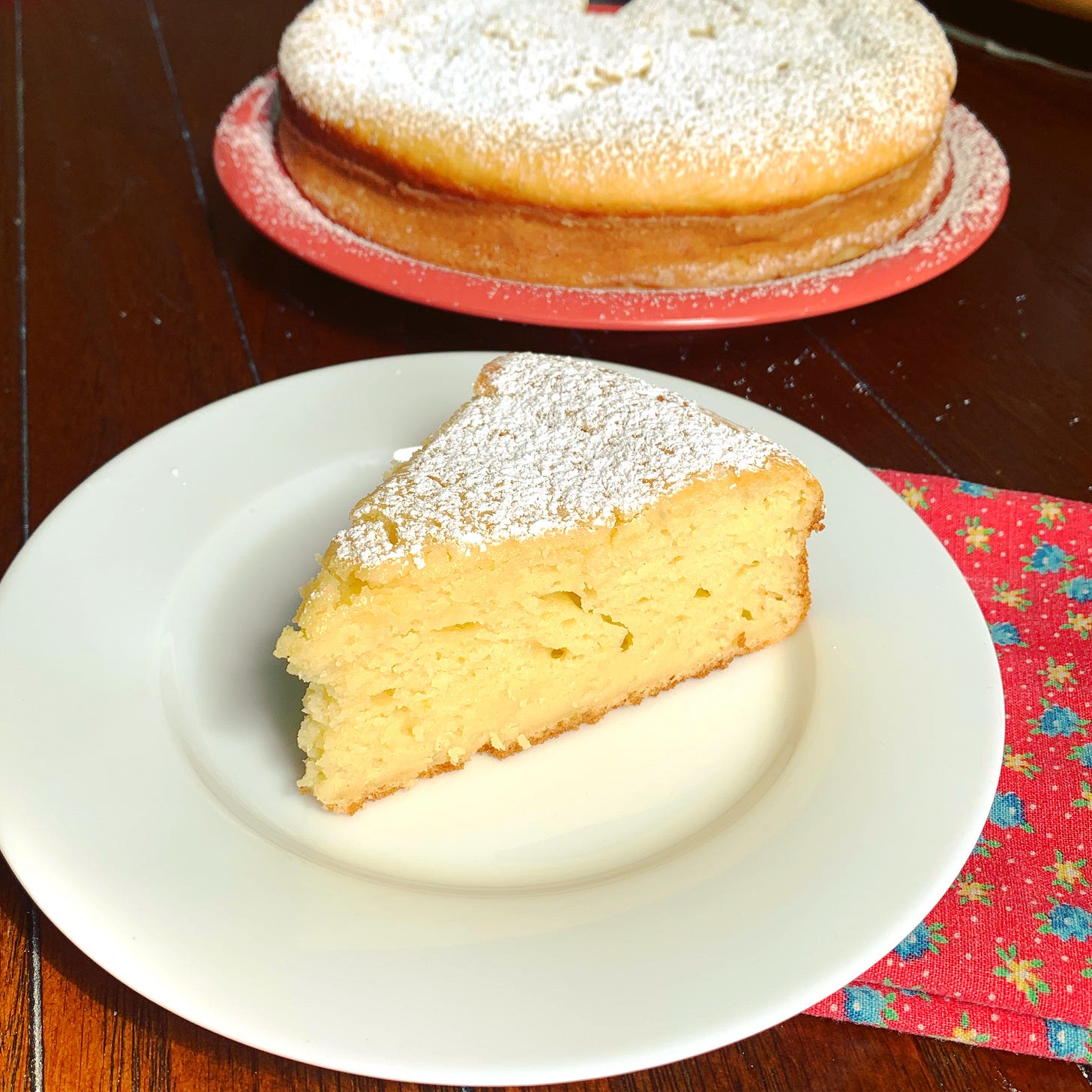 Chapter 42
How many decisions do you make every day? If you break it down, its maybe millions. Some are easy like, "go drink water" and some are hard like, "choose your own joy". You are pretty good at making the small decisions, though you should probably eat more vegetables, drink even more water, and should definitely stretch more often.
Choosing your own joy is harder work. Sometimes you don't even know what that would even look like, but you DO know what it DOESN'T look like. Sometimes that's enough. Sometimes you just have to make a choice to stop doing the things that do not bring you joy, things that take more than they give, things that cost too much to your own well-being.
It's especially hard to think about those things right now. How do you even begin to contemplate which costly thing you are capable of letting go of? You can't keep Amy Coopers from existing. You cannot bring back George Floyd. You cannot walk out the door today and abolish the police force that entered Breonna Taylor's home and murdered her. You can't do just one thing to keep another list of names from appearing in the weeks to come. You can't go to your basement and make a vaccine. You can't give everyone back their jobs. You cannot write one letter and topple oppressive systems.
You should try. You should keep trying. You should not be complacent or quiet. These are certainly some of the biggest things that deserve your care, consideration, labor, action, and attention. So maybe the "big" things you can actively choose to change are, by comparison, actually much easier than changing the whole world.
You can remove yourself from situations and relationships that exploit you. You can stop participating in endeavors that misuse or abuse you. You can disassociate from anyone or anything in order to save yourself, to choose your happiness. You can make the choice to choose yourself, not above everything else like some egomaniacal megalomaniac, but certainly above those things that harm you (I mean, you can choose to be an egomaniacal megalomaniac, but you really shouldn't).
And when you do make even ONE of those choices, you should pour yourself a glass of rosé or your favorite bottled beverage or whatever you have reserved for a special occasion. Then, you should go into your kitchen and try, again, to bake something.
Pick your favorite cookbook. Maybe the one you got so many years ago on a whim from a used bookseller on the sidewalk of Manhattan while taking a walk with your grandmother: The Silver Spoon.
Flip to Lemon Ricotta Cake, because that's your jam.
Measure out your dry ingredients and preheat the oven to 350°. Grease a cake pan with butter after looking it up to confirm that "sweet butter" and "butter" are pretty much the same thing. Lightly dust the buttered pan with flour.
Beat four eggs with brown sugar. Lookup up what "scant" means in relation to a baking measurement. Although you really like sugar, approximate what less than a whole half a cup would look like to an old Italian woman baking in her kitchen 50 years ago. Wonder what "pale and fluffy" means while you whisk. Stop whisking when you think it's kind of pale and pretty fluffy (in retrospect, you probably should have kept going).
Zest a whole lemon (even though it says half because, hello! Lemon!) and add that to your somewhat light and kind of fluffy egg mixture along with ricotta, milk, and olive oil.
Even though it says to "sift in" the dry ingredients, kinda gently pour it in in batches while trying very hard to keep mixing by hand. Once it is all in, mix "well" (whatever that means) and pour it into the prepared pan.
Sprinkle with organic cane sugar because you already put the brown sugar away. Be conservative (in retrospect, you should have been less conservative) and bake for 40 minutes or until your toothpick or chopstick (the closest object to a toothpick in your kitchen) comes out clean.
Top with A LOT of powdered sugar (get it everywhere in the process) because you were too scant and conservative along the way.
Toast yourself. You deserve to treat yourself AND treat yourself well.